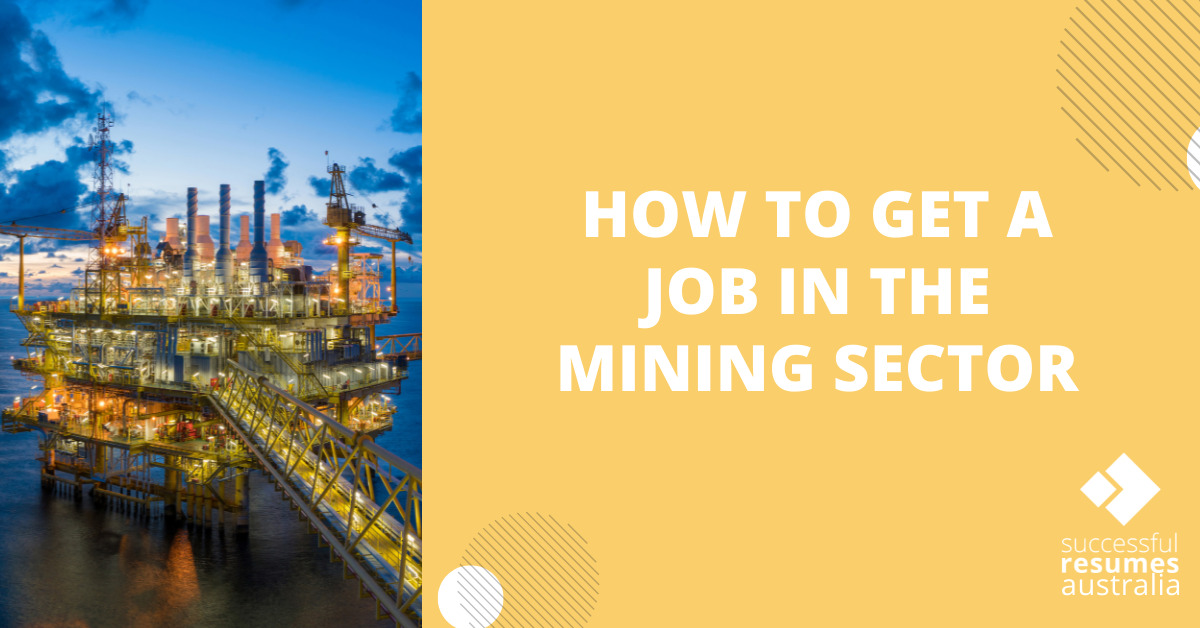 How to Get A Job in Australia's Mining Sector
Australia is one of the world's leading mineral resources nations. From the gold rush of the 1850's to today, the minerals industry is one of the biggest contributors to Australia's export trade and a significant contributor to the Australian economy.
Continuing a trajectory of growth, employment in the industry has increased by 21.4 per cent over the last five years and is expected to create an additional 15,000 new jobs over the next four years.
Mining is a very competitive industry. With tales of entry-level jobs paying incredibly well, many people have been lured to the industry in the hope of working hard for a few years to set themselves up for life. While it's not always easy work, if it suits you, the money can make it worth the effort. In fact, the industry boasts an average weekly wage of $2,697, well above Australia's average weekly wage of $1,713.
Drillers, Miners and Shot Firers are the leading occupations in the industry with Metal Fitters and Machinists following. Truck drivers are also in demand with more than 14,000 employed within the industry, but it's certainly not all dirty, dusty, and backbreaking work.
The Australian mining sector is emerging as a global technology leader with a growing number of cutting-edge roles in innovative tech-driven fields.  In pursuit of improved safety, sustainability and competitiveness, the mining industry is adopting new technologies such as robotics, drones, data science as well as virtual and augmented reality to streamline and optimise performance. This change heralds a shift in the type of roles available and requires a different skill mix for the future mining workforce.
In fact, research conducted by EY for the Mining Council of Australia found that 77% of jobs in Australian mining will be enhanced or redesigned due to technology within the next five years.
So how do you pursue a mining career?
Successful Resumes writes resumes for people at all levels of their career in the mining and METS industries. We reached out to some clients who have climbed the mining ladder to ask their advice on how to get a foot in the door or leg up in the industry. Here are their tips and tricks.
Knowing someone still works really well but is not the only way in.
Building your networks and reaching out to people you know in the industry is a great way to discover upcoming vacancies or be recommended for a role. If you don't know anyone in the industry, a specialised recruitment company that focuses on mining roles is your next step.
Research jobs in the Australian mining sector to discover how you might fit in.
If you want to pursue a career in mining, start by getting to know the industry. The Minerals Council of Australia have created a great guide, More to Mining Careers, that takes you beyond stereotypes and helps you choose potential careers and pathways into the mining industry.
Get some qualifications.
Once you have identified the types of roles you are interested in, investigate the core job requirements. These could include a vehicle license, a Heavy Rigid (HR) license, or a Certificate for the Mining Drilling & Civil Infrastructure role you are looking for.
The mining industry takes health and safety seriously so completing basic mining training or Standard 11 Induction is a prerequisite for most roles.
Focus on relevant skills.
When we spoke to hiring managers in the industry, we asked them what they look for in a resume for an operator/maintainer. Along with the trade qualifications and experience some key skills came up.
"Exposure, experience and commitment to the use of safety systems."
You can't overstate how important the right attitude towards safety is in the mining industry. It is widely recognised that mines are hazardous workplaces which can present very significant risks to workers and others. Mining companies take these risks seriously and are looking for people who will not only adhere to the safety processes but promote them to build a safety led cultures on the sites.
"Flexibility and adaptability. We're trying to get quicker at change. We dont want to do things the same way we always have. This means we're looking for people who can cope with and even create change."
Like many industries, to stay competitive in the mining industry requires change. The industry evolving through technology, data analytics and automation. This has created a drive for more collaboration, creativity, and social skills to successfully manage changing community expectations.
"Technology. Our tradespeople and operators more and more need to be comfortable and able to use technology. Even if they don't have experience, they should demonstrate a willingness and ability to learn."
Rapid advances in technological innovation are reshaping the Australian mining industry. While autonomous vehicles, automated drilling and drones are replacing some functions, traditional jobs are also increasingly being augmented with new technology. For example, mining mechanics and electricians are needing to cross over into control systems more and more. This makes experience or a willingness to learn is highly valued.
"People leadership skills."
Once you get to the interview stage, it becomes a lot less about technical skills and more about people leadership skills. In fact, some hiring managers said people skills were the MOST important thing they look for. Mines are collaborative working environments. Making sure everybody is working towards the same goals is both more efficient and safer. Demonstrating how you have good people skills is both important on your resume and when answering behavioural interview questions at the interview stage.
"Diversity is important for us".
Most mining companies recognise the value of diversity. Many are actively trying to increase the proportion of females and indigenous employees, but they are also looking for diversity of experience and culture.  This can be an advantage if you are trying to use your existing skills to break into a new industry. Like all resumes for career changes, focus on your transferable skills to show how you could be an asset to the company.
If you would like specific feedback on how to write a resume for the mining industry, contact our specialised writers in Western Australia, Queensland, New South Wales, South Australia, and Victoria.
Contact Form
"*" indicates required fields