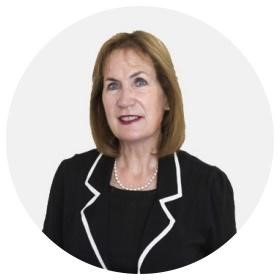 Jenny Carlin
Successful Resumes Canberra
canberra@successfulresumes.com.au    0414 306 270   
Jenny is a Canberra-based, highly qualified and experienced professional resume writer, marketer and human resource specialist with a background spanning education, marketing, financial planning, staff management, senior management and small business. With 20+ years with Successful Resumes and well-established relationships with a diverse range of clients, Jenny has a successful track record of producing effective resumes that deliver results. Jenny understands the importance of a well-structured, targeted resume and application, and how important they are in obtaining that important interview.
Client focus:
Jenny also understands the importance of tailoring her service to suit the needs of individual clients and offers flexible working hours for scheduling face-to-face meetings or phone conversations (including after hours and weekends). She is also willing to review your resume, provide a confidential evaluation, advise what can be done to improve your resume and how to use her services to help you make that next career move. Jenny's clients come from diverse backgrounds and industry sectors such as students, career starters and those returning to work, all levels and types of public and private sector organisations, all trades and transitioning ADF members through to professionals, senior executives and academics.
Selection criteria:
For public sector clients, Jenny has an excellent working knowledge of the APSC's Integrated Leadership System (ILS) and similar competency frameworks to inform her ongoing role in assisting APS staff and prospective staff at all levels with their resumes and selection criteria / applications. Her public sector application experience includes understanding and meeting diverse application requirements including one and two-page pitches, word and character limited criteria, as well as responding to multiple targeted questions type of applications.
Career progression: 
Jenny combines her extensive experience of writing for business and a background in managing and recruiting staff, with a strong appreciation of today's employment processes to provide her clients with the tools and advice they need to succeed. Jenny works effectively across all sectors and knows exactly how to help clients align their career goals with their capabilities and strengths, build their confidence in making job-related decisions and assist them in identifying and securing a position that meets their short and long term aspirations.
Services:
As a professional member of the Career Development Association of Australia (CDAA), Jenny's services are of a high standard and always tailored to individual client requirements, including:
Initial review and obligation-free feedback on existing documents
Face-to-face interviews (or by phone if you prefer)
Resume preparation
Cover letters
Selection criteria applications
Job search strategies
LinkedIn profiles
Graduate, scholarship, cadetship and internship applications
Ensuring resumes meet the requirements of computerised Applicant Tracking Systems (ATS) by including key words, phrases and formatting to ensure you are noticed.
Supporting her professional writing skills and career as a senior manager, educator, marketer and volunteer for community organisations, Jenny has a Master of Business Administration, Graduate Diploma in Education, Bachelor of Science, is a Graduate of the Australian Institute of Company Directors and has experience on commercial and not-for-profit Boards.