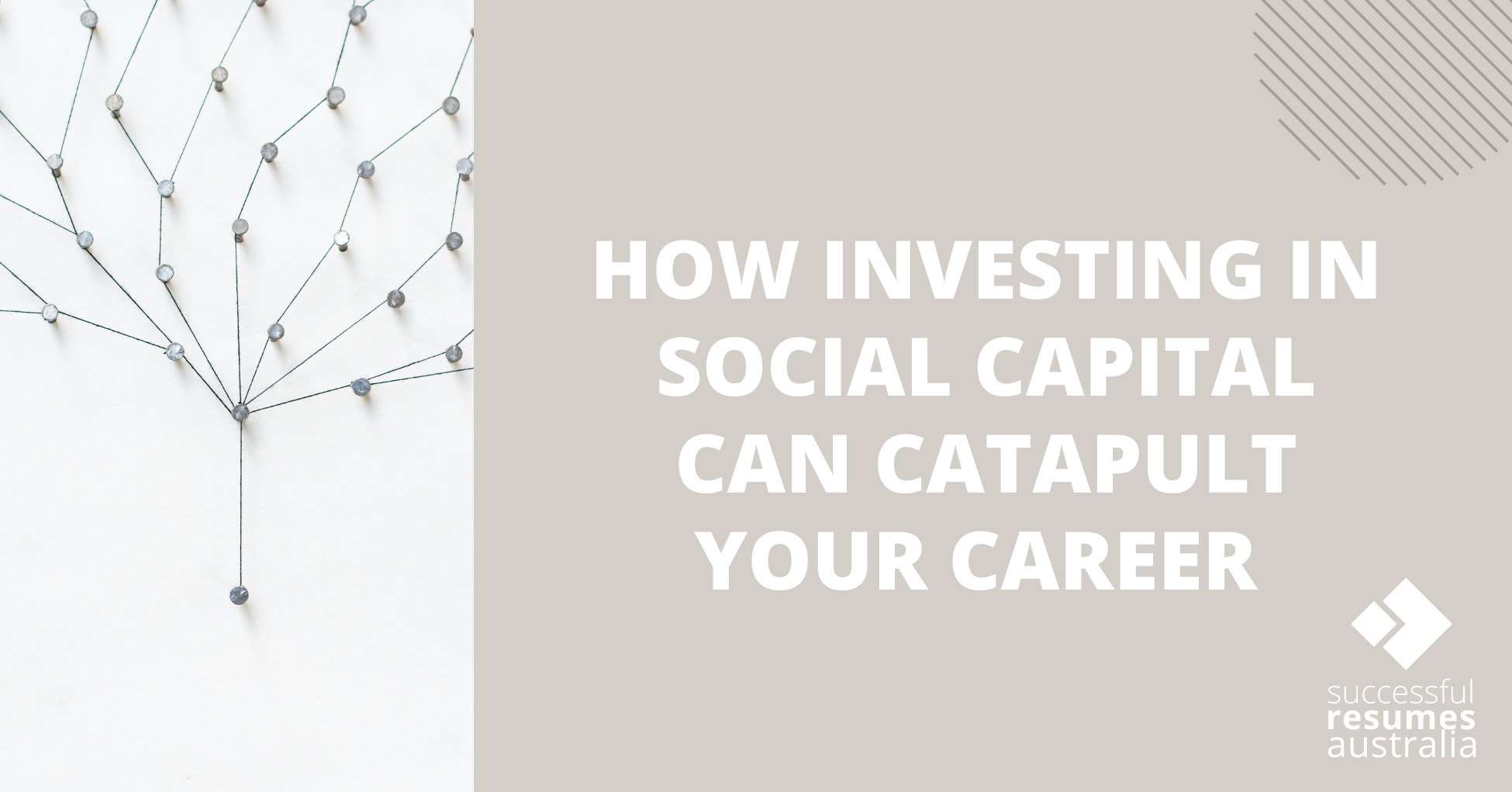 How investing in social capital can catapult your career
When you look at the research on social capital and careers, it's a no-brainer. Social capital is one of the best investments you can make in your career. Having strong social capital can provide access to information and job opportunities that might not be available through other channels, and gives you a network of contacts who can provide support and advice as you navigate career life.
The research is clear, individuals with a strong network of professional contacts are more likely to be employed, have higher earning potential, and be promoted more quickly than those with smaller or less engaged networks. Findings also suggest that people with strong social capital tend to have more positive job attitudes and higher job satisfaction. A win on all accounts.
What is Social Capital
There is no commonly agreed definition of social capital but for most people, it refers to the value of social networks. It bonds similar people and bridges diverse people, with a sense of reciprocity. Essentially, building relationships with people who you support and who support you.
"Today's most valuable currency is social capital, defined as the information, expertise, trust, and total value that exist in the relationships you have and social networks to which you belong."
Keith Ferrazzi, author and entrepreneur of bestselling books, Never Eat Alone and Who's Got Your Back?
What is the difference between Networking and Social Capital
Networking is one of the most common things people do in business. It can be useful, but the real, often untapped value, comes from when we take the time to build relationships with other people that go beyond simple "small talk" and get to know them on a deeper level.
While networking can seem quite transactional and surface level, social capital is about building authentic relationships with other people who are willing to listen when needed, offer advice when asked and act as a cheerleader for you.
Why is Social Capital important for your career?
'The folk wisdom that more people get their jobs from whom they know, rather than what they know, turns out to be true'.
Thomas Sander, who led the largest survey of social capital to date found that after surveying 30,000 people, 'The folk wisdom that more people get their jobs from whom they know, rather than what they know, turns out to be true'.
Social capital is an incredible resource you can use to achieve your goals, whether they're professional or personal. It's also how and why you support others to achieve their goals.
People use social capital at work and in business settings all the time. A well-known example is putting feelers out to your network when you've decided to start looking for a new opportunity. In fact, a study by researchers from the Harvard Business Review (HBR) in 2020, found that people with diverse networks are more likely to be promoted and receive access to greater opportunities.
Mckinsey also recently looked at the impact social capital has on work and found that decades of academic research delivers a consistent message – building deep and meaningful relationships benefits both individuals and organisations. The impact and advantages are lower turnover, improved team and individual performance, increased knowledge transfer, greater innovation, and increased career mobility.
We also know from our work writing professional resumes for clients, across an enormous breadth of roles and industries, that strong social networks help individuals to develop new skills, gain access to new resources, and advance in their careers.
How do you build Social Capital
The Covid pandemic has impacted our relationships. A survey of 5,500 US workers by Mckinsey found that three-quarters of the respondents are connecting with others less frequently, have smaller networks, and spend less time and effort on relationship building since the start of the pandemic.
But with looming recession fears and companies across the world rolling out measures to reduce costs through redundancies, smaller bonus pools and hiring freezes now is the best time to start investing in your relationships.
Here are some strategies you can use to amplify your social capital:
Take the time to go beyond simple "small talk" and get to know people on a deeper level.
The next time you're in a social situation, take the time to go beyond small talk and get to know people on a deeper level. Ask open-ended questions that extend past what they do for work. Ask about their hobbies, passions and what they are reading or listening to at the moment. Ask about their hopes and dreams. Everyone has them but we don't talk about them often enough. Genuinely listen and ask follow-up questions to identify commonalities, shared interests and hobbies that help foster mutual understanding and connection.
Always do what you say you will do.
Integrity is a cornerstone to building trust and credibility with others. Following through on commitments and promises is a sure way to build respect in personal and professional relationships.
Share resources and knowledge
Sharing resources and knowledge with others can help to increase social capital by creating opportunities for mutual support and collaboration. Operating with openness, generosity and helpfulness creates a strong sense of belonging and connection between you and the people around you. It also makes you more likely to benefit from reciprocal altruism.
Shine a light on other people's success.
Recognising the greatness in others is a gift that we can share freely and easily but has a lasting effect on our relationships. By shining a light on other people's unique talents, abilities, and contributions, we foster a sense of community. It sends the message that we value and respect them and that we are invested in their success. Feeling seen and valued not only increases trust, cooperation, and mutual support, it frankly makes everyone feel good.
A simple "well done" or "congratulations" can go a long way in acknowledging someone's success but you can also spread the word about their accomplishments to colleagues, friends, or even on social media.
Look for opportunities to facilitate connections between connections.
Recognising the success of others can transform relationships and careers. By identifying opportunities to connect people you can open up doors for learning and growth through mentorship, networking and access to new resources and information and new work.
It's important to remember to give the help you want to get. Always take the opportunity to vouch for someone, refer a person, make a recommendation, and applaud a positive experience. Not only will it make you feel good but it establishes the types of relationships that encourage the same to come back to you.
It's important to remember that social capital transcends work. Building strong, meaningful relationships where you authentically support and serve others, and others support and serve you, becomes one of the most powerful foundations of your life journey. I'll finish with this quote from Nigerian Author and Educator, Lynn Ujiagbe "Social capital is the new gold. Add value to others, value others and you will be valued."
For more tips on how to build your career, visit successfulresumes.com.au