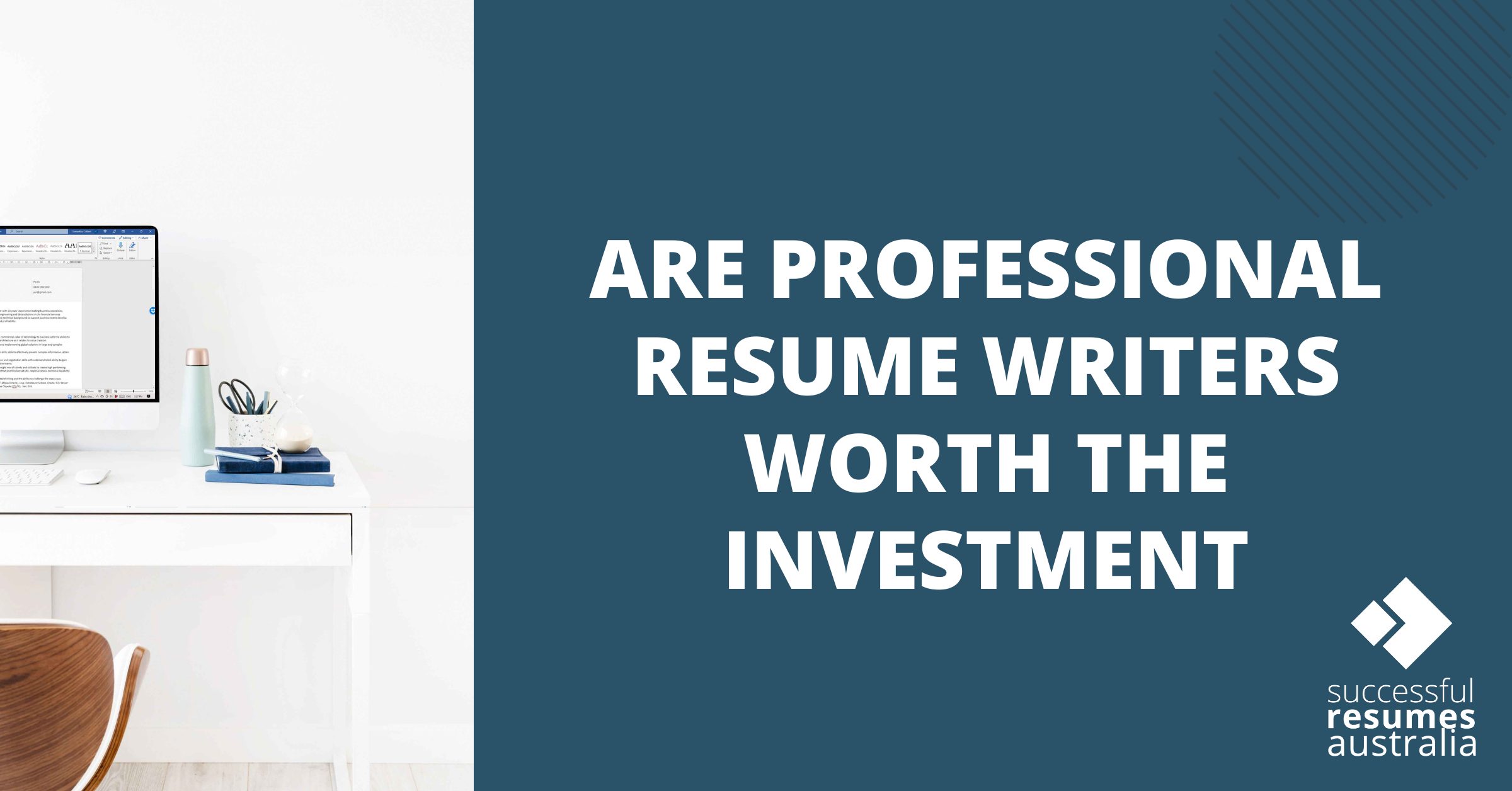 Are Professional Resume Writers Worth the Investment?
It's not easy to write a resume that really makes your skills, experience and personal attributes shine. There are lots of reasons why. Humility has always been considered a prized trait by many people so, talking about how and why you're unique and special can be difficult. When you couple this with the idea of putting yourself out there to be judged on your work, no wonder the idea of writing your resume can make some people freeze and sit at a blank screen. Luckily there is a solution to this, get help from a professional resume writer.
Here are a few reasons why we know professional resume writers are worth the investment.
If you have a lack of experience or confidence in writing a resume
I recently had a senior executive client with highly successful twenty-year career. He didn't have a resume because he hadn't needed one until now. His previous jobs all came from his network, but now, wanting to make an intentional career change, he had no idea where to start.
He's not alone. Many of our clients don't have much experience writing resumes so lack confidence in their ability to create a strong, effective resume.
When you work with a professional resume writer, you can trust that you will end up with a document that not only looks polished and professional but helps the hiring manager understand why you are the right choice for the role.
 If you have limited time
Time is a precious commodity. Technology and the fast-paced nature of modern society have made people busier than ever before. It can be difficult to find the time to devote to creating a resume. Engaging a professional writer takes the pressure off. Normally you can have a draft document within one week of deciding to start which can both speed up your job search readiness and reduce the stress of taking on another thing.
To help tailor the resume to the job
The team at Successful Resumes are experts in tailoring resumes to what the employer is looking for. We know that the most successful resume is the one that is most relevant to the person reading it. If the employer is looking for customer service skills, there is little point in your resume focusing on your administration skills. It's not to say they are not great skills, it's just not what the employer is looking for to fill their specific role.
Shining a spotlight on your most relevant skills and experience to the role can significantly increase your chance of being considered a strong candidate and being invited to interview. Professional resume writers are experienced at understanding the key skills in a job description and addressing them.
Get up-to-date industry knowledge
While this applies to all industries it can be really important when applying for local, state and federal government jobs in Australia. Public sector organisations are constantly changing job application requirements. You can stay in the know by tapping into the expertise of specialists who are writing these applications every day. Our Canberra expert Jenny Carlin has helped thousands of jobseekers land a role in the Australian Government through her in-depth understanding of the job application process. It can be an invaluable investment in your career.
Professional resume writers stay on top of the latest trends and best practices in resume writing so that our clients remain contemporary and competitive. Nothing dates a candidate faster than still having an objective on their resume.
Get objective feedback
As resume writers, our unbiased approach allows us to see things about people that they often can't see about themselves. It's much more straightforward to recognise the greatness in others than to recognise the greatness in ourselves. When we meet with clients and talk to them about their career journey, it's often easy to see where they shined.
Our role as expert resume writers is to celebrate the times our clients were proud of what they achieved. We tell the story of how their previous experience demonstrates their future potential. Most people become so familiar with their work that they think it looks ordinary. We help clients see how they are extraordinary.
It's not enough to just say how amazing someone is though. By getting to know their work history, we describe how their skills have been applied in real-life scenarios. We give examples that provide evidence to support why they are qualified.
Increase your chance of getting an interview with a resume writer
Having a high quality professional resume that is free of errors, looks modern and tells your story in a targeted way is a sure-fire strategy to land the job you want faster. Working with a professional resume writer to mindfully consider your career and draw out specific examples of your work, quantifiable results, awards, and other proof points will not only build your career confidence but importantly, help you land the role you're interested in.
Ultimately, hiring a professional resume writer is a valuable investment for anyone looking to improve their chances of getting a job.
Successful Resumes has been a leading Australian resume writing company for 30 years. We make sure your resume is clear, concise, and tailored to make a fantastic first impression. To find out more about how we can help, or to get a free assessment of your current resume, contact us using the form below.
Contact Form
"*" indicates required fields