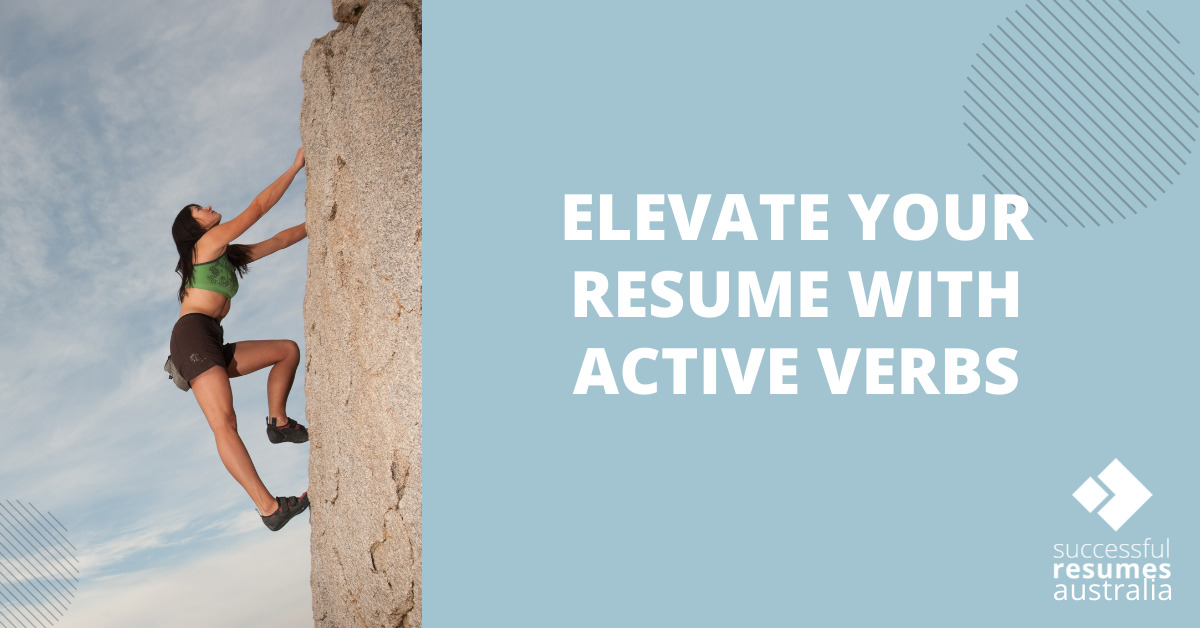 Elevate your resume with active verbs
You probably already know that action verbs are essential to creating a resume with specific, measurable and outcome focussed content, but are all action verbs created equally? We think the answer is no.
Some action verbs like managed, used, completed, and assisted are overused and vague. Not only are they tired, but they also don't do a great job of helping hiring managers and recruiters understand what you have done, what you've accomplished and the value you have brought to previous teams and organisations.
With hiring managers reportedly spending only 6-10 seconds to decide if you are someone they want to know more about, every word, and its meaning counts.
We've compiled a list of action verbs that will elevate your resume. When combined with quantified information, you are guaranteed to have a winning bullet point that showcases your skills with clarity and confidence. If you're not sure how to write a resume that highlights your unique skills and experience, speak to us. We're the Australian experts in resumes and we'd love to help you land the perfect next job.
The best active verbs for resumes
When you achieved a goal
Accomplished

Assembled

Chaired

Championed

Controlled

Coordinated

Delivered

Developed

Directed

Drove

Executed

Headed

Initiated

Managed

Orchestrated

Organized

Oversaw

Planned

Produced

Spearheaded

Steered

Strengthened
 When you brought an idea to life
Built

Created

Conceptualised

Conceived

Designed

Developed

Devised

Founded

Engineered

Established

Formed

Formulated

Founded

Ideated

Implemented

Incorporated

Initiated

Introduced

Launched

Modelled

Originated

Pioneered

Secured

Sparked
 When you changed or improved something
 Adapted

Converted

Customized

Merged

Modified

Optimised

Overhauled

Redesigned

Refined

Refocused

Reorganized

Replaced

Restructured

Revamped

Revitalized

Simplified

Streamlined

Updated

Upgraded

Transformed
When you championed growth
Acquired

Accelerated

Achieved

Advanced

Amplified

Boosted 

Enhanced

Expanded

Furthered

Gained

Generated

Grew

Improved

Increased

Lifted

Maximised
When you solved a problem
Critiqued

Corrected

Debugged

Diagnosed

Identified

Invented

Proved

Rectified

Recommended

Reconciled

Solved
When you brought people or activities together
Aligned

Centralised

Co-authored

Collaborated

Cooperated

Contributed

Enabled

Encouraged

Facilitated

Forged

Fostered

Inspired

Integrated

Partnered

Participated

Shaped

Supported

Teamed up
When you supported or taught others
Advised

Advocated

Arbitrated

Answered

Clarified

Coached

Consulted

Counselled

Demonstrated

Educated

Fielded

Informed

Intervened

Motivated

Referred

Resolved
 When you supervised a team
 

Coached

Cultivated

Directed

Empowered

Evaluated

Fostered

Guided

Hired

Inspired

Instructed

Led

Mentored

Mobilized

Motivated

Recruited

Supervised

Taught

Trained 
When you use your creativity
Authored

Brainstormed

Briefed

Communicated

Conceptualised

Curated

Derived

Designed

Drafted

Edited

Illustrated

Imagined

Influenced

Intensified

Modelled

Proofread

Prototyped

Published

Researched

Strategised

Storyboarded

Translated

Visualised

Wrote
When you worked with data or numbers
Audited

Budgeted 

Calculated

Converted

Crafted

Documented

Estimated

Inventoried

Programmed 

Projected 

Recorded

Verified
When you used your analysis or research skills
 

Analyzed

Assembled

Assessed

Audited

Calculated

Checked

Detected

Deciphered

Discerned

Discovered

Evaluated

Examined

Experimented

Explored

Evaluated

Forecasted

Identified

Interpreted

Investigated

Mapped

Measured

Qualified

Quantified

Reconciled

Reviewed

Searched

Studied

Surveyed

Tested

Tracked
When you used your technical skills
Advanced

Architected

Analysed

Automated

Coded

Deployed

Installed

Networked

Programmed

Rewrote

Refined

Tested

Troubleshoot

Upgraded
 When you communicated
Authored

Briefed

Campaigned

Co-authored

Composed

Conveyed

Convinced

Corresponded

Counselled

Critiqued

Defined

Documented

Edited

Illustrated

Instructed

Lobbied

Persuaded

Presented

Promoted

Publicized

Reviewed

Spoke
When you achieved something or were awarded
 

Attained

Awarded

Completed

Demonstrated

Earned

Exceeded

Outperformed

Reached

Showcased

Succeeded

Surpassed

Targeted             

Won
When you monitored and controlled something
Authorized

Blocked

Delegated

Dispatched

Enforced

Ensured

Inspected

Itemized

Monitored

Screened

Scrutinized

Verified
When you found efficiencies and cost savings
 

Conserved

Consolidated

Decreased

Lessened

Reduced

Saved

Slashed

Yielded
 If you would like help to create a resume that showcases your skills and experience, speak to us. We're the Australian experts in resumes.
Contact Form
"*" indicates required fields