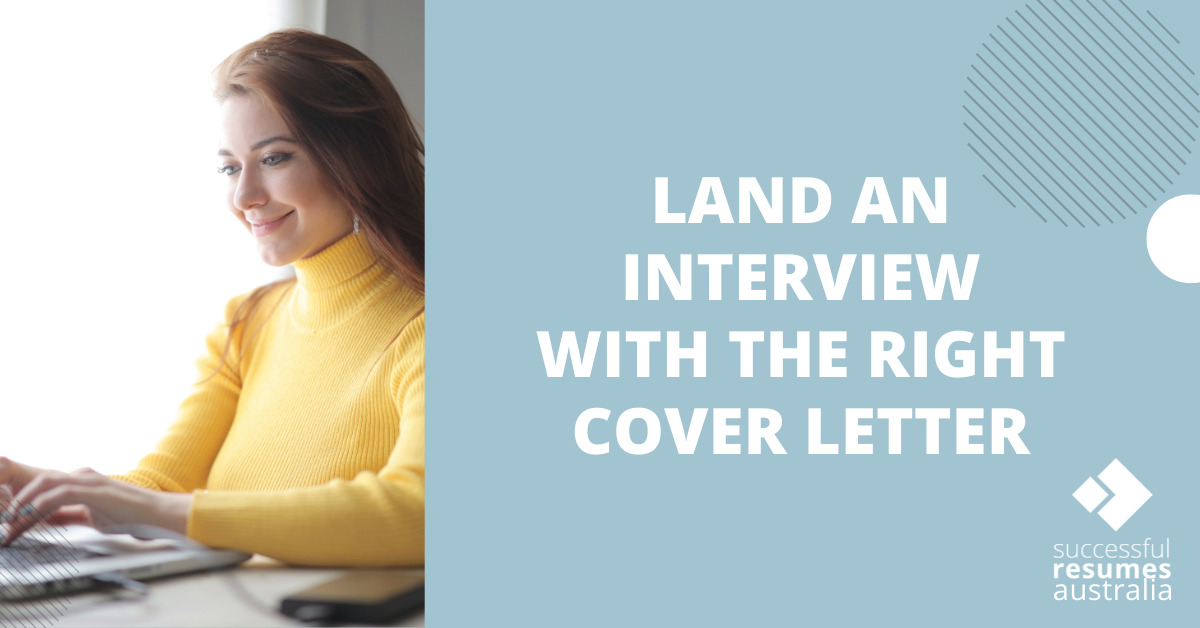 How to write a cover letter that lands an interview
For more than 70 years people have been attaching cover letters to their resumes to complete their job application but are they required, are they being read and most importantly, what does a stand-out letter look like?
In 2022, Successful Resumes is turning 30 which means that for almost half the time the world has had cover letters, we've been writing them! We've taken the opportunity to summarise everything we know about how to write a great cover letter below.
Why do you need a cover letter?
Cover letters give you an opportunity to show employers who you are beyond your resume. When written well, the cover letter should build the story of why you are the best person for the job and how you have the necessary skills to be successful in the role.
Do employers read cover letters?
Although there was a moment when we thought the popularity of cover letters were going to dwindle, recruiters and hiring managers still see them as an important aspect of the job application process. A quick look at job vacancies shows that most roles ask you to submit your application including a cover letter.
In our experience, some employers place more value on the cover letter than they do on the resume. If the cover letter isn't compelling, they may not give the resume much attention. We also know of clients who have made big career leaps based predominately on their cover letter. They might not have had the ideal experience, but they demonstrated to the employer that they had the heart and soul for the job.
What will help you stand out?
Employers are looking for candidates who are genuinely interested in their job, not just any job. They look to the cover letter to understand who you are and your 'why', why you want this job, why you are interested in their organisation, and why you think you'll be successful in the role.
We've highlighted a few key things to focus on when creating a standout cover letter:
Addressing the letter
Wherever possible, it's much better to address the cover letter to a person. Not only does it demonstrate you have invested time and effort into the application, it also helps build rapport with the hiring manager or the role manager because it acknowledges them directly. If the job advertisement hasn't included a name, we suggest calling the company and asking  HR who the right person is. If you're not able to find the name of the decision-maker, it's best to address your letter to Human Resources and start the letter with 'Dear Sir/Madam'.
Keep it solution focussed
From the outset, it's good to keep in mind that cover letters are not only focussed on you. They are about how the constellation of your unique qualities offers a solution to the employer. The role exists because there is a job to be done. It could be to serve customers, to find new customers, to improve services, or to create new services. Regardless of the purpose, all roles exist because there is a need and a cover letter is the perfect place to align their need to your capabilities.
Write to the reader
If you are using the same, or virtually the same, cover letter for every job application, you're doing yourself a disservice. It takes seconds to spot a generic cover letter and probably a second more to lose interest. When the reader feels like a cover letter has been specifically written for them, they are more likely to pay attention to what they are reading. Customise your letter by referencing the company name, the role and tying it back to their strategic objectives.
Make it relevant
Along with tailoring it to the company and role, you should also tailor your pitch to be relevant to the vacancy and the requirements in the job advertisement. It's often helpful to mirror the language used in the advertisement to reinforce how your skills match their need. It also boosts the keywords if the employer is using applicant tracking systems to cull applications.
End with a call to action
A smart cover letter wraps it up with enthusiasm. A short and polite, statement like "Thank you for taking the time to consider my application. I look forward to discussing my suitability for the role at an interview" is all you need at the end. If you haven't included it elsewhere, you could also add in, "The best number to contact me on is xxx".
An impressive cover letter that matches your skills, experience and qualities with the job you are applying for, may significantly improve your chances of being invited to an interview.
If you would like support creating a cover letter that makes your skills shine, reach out to the team at Successful Resumes. We would be happy to help you land a job you love. Contact us today.